Artist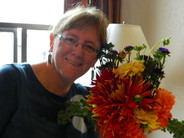 Gigi's path has followed a lifelong pursuit of arts and crafts. She is an accomplished fused glass and flame-worked glass artist, watercolor painter, wearable art creator, and designer. Her love of the landscape around her is evidenced in her glass designs. This work blends the use of kiln and torch, of dichroic, non-coated glass and enamels to create glass panels, beads, wearables, and wall hangings. Her glass crafts emerge as a bright, colorful, and fun look at the landscape. A peek into her studio reveals an artist in motion, constantly exploring, always working in the moment.


---
From the Mountains to the Sea, I create!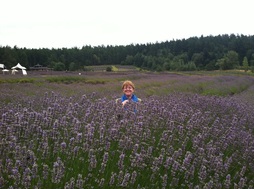 From a trip to the Pacific Northwest.
Gigi is known for her landscapes in glass picturing locations from Maine to Alaska, from Florida to Colorado. A display of her work evokes memories of North American road trips. She has also established a line of "jewelry for a cause," called the Slice-Of-Life. Inspiring hope and happiness, a portion of the proceeds from this line benefit Hospice and other programs devoted to families fighting disease. New work explores the combination of glass with pearls, and glass landscapes with rocks collected on coastal wanderings.




---
Captured by the Moment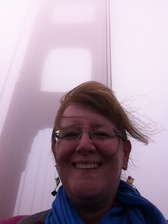 "It's clearing up!"
Gigi is a juried member of the League of NH Craftsmen. Her work has been exhibited at Gallery 205 of the League of New Hampshire Craftsmen, the New Hampshire Institute of Art, The Sharon Arts Center, the Maine Maritime Museum, and is found in private collections. Her work is available for sale by contacting the artist, at juried fine art and craft shows in New Hampshire, Maine, Massachusetts, and Florida, and at select galleries in New England.

Gigi thanks her family and friends, each and every one; for without them, and their continued support, none of this would be possible. Thank you!



---
Gigi's Welcome Notes
Summer 2017
Is it really June? Had the woodstove going a couple of days ago, planning for a heat-wave next week. Jeesh! The cooler weather is good for running th kiln...and that's just what I've been doing!
I'm creating new, fun, earrings. Some with sparkle, some with gem-stones like turquoise and Peruvian opals, and some with natural stone looking enamels. I'm also having a ball making some tiny earrings, and some really long ones too! Come see which ones you like best this summer!
I'm also making my Jo-Birds, and even just made a new Jo-Bird-Who (hoot-hoot) too! A freash batch of fern vases just came out of the kiln, and I'm working on a big new piece with stones that I collected earlier this spring on Cape May in New Jersey. (This one will be ready for Sunapee).
I've also been also thinking about collecting. In addition to being a maker, I'm a collector too. And I love the hunt to find, that new, beautiful, made by hand object that delights me, gives me joy, and inspires me. Are you a collector? Tell me your story.
I hope that you have the chance this summer to come for a visit; we'd love to see you!
In June, I'll be in Rhinebeck, NY
artrider.com/rhinebeck-crafts-festival-2017
In July, I'll be in
berkshiresartsfestival.com/
And then for 9 glorious days in August, celebrate the granddaddy of fine craft fair's,
https://www.nhcrafts.org/craftsmens-fair-overview.php
New this year, you can follow my progress on instagram.
instagram.com/gigilaberge/
​​
Happy May 2017
​
Happy May! Gray is gone, Green in In. Things are growing here. Life is good.
After a bit of a slow spring, my time in the studio has roared back to life! I've got new work that I am very excited about.
And here's the story. It's my crazy combination of inspiration, material, and creativity. It reminds me to keep a young heart, to try new things, and it makes me smile. My hope is that Jo-Bird makes you smile too!
The process of this project probably started years ago with the admiration of a drawing by my nephew, Jo. Then last year I added a box of interesting glass, purchased at an estate sale. I added it to my stash with no real idea of what I would ever do with it. Then this winter I was on my watercolor paintings, and really let loose on my crazy, colorful, skinny leg bird drawings. And then I got an idea. Could I take that interesting glass and make my birds with it? Could I? Meet my Jo-Bird.
My birds and I are hitting the road this May. First, we head to Tarrytown, NY and the show at the Lyndhurst Castle. Click for more information and discount admission.
www.artrider.com/spring-crafts-at-lyndhurst-2017
Then, we head to Northampton, MA for the spring Paradise City Arts Festival.
www.paradisecityarts.cowww.paradisecityarts.co
These two shows are the perfect gateway from spring to summer.
And of course...you know I've got a new little something up my sleeve for earring lovers! Come see us!
​
Spring 2017
Spring will be here before you know it!
I had the honor recently of being interviewed by Susan Laughlin at NH Magazine. They choose me (yikes, how cool!!) to be the Artisan for their February issue. It was some kind of amazing to see it in print. See it here,
www.nhmagazine.com/February-2017/Gigi-Laberges-Fire-and-Glass/
The real thrll came when a wonderful friend shared, "He went to Gigi" for her Valentines day post.
I'm in the studio working on improving my bead making skills, throwing paint on paper, (um that means I'm having fun painting!), and working on new designs for this year. I'm thinking fun.
Let's see where this takes me. Stay tunned​
Happy New Year 2017!
I begin 2017 grateful for the amazing year I just lived. I am a lucky woman!; with many thanks to my special family and friends, I enjoyed the gfts of travel and exploration last year. Now, I wonder, what's next?
First up, I''ll be doing a couple of fun shows at my favorite Florida home-away-from-home, Venice. First, January 28th, I'll be set-up at he "Bling Thing" at the Venice Arts Center. Then, February 18 & 19 I'll be at the Fine Art show and sale also at the Venice Arts Center. In addiiton to my "regular" work, I'll have my paintings and note cards for sale at this show. Venice is a great place to visit; come see me!
I had the honor recently of being interviewed (more about this soon!), and it was kind of exciting to talk about my interest in mixing glass with natural materials. I've got pearls back on my mind, and paper too. Hmmm...let's see where this takes me. Stay tunned
To the wonders that 2017 can bring!
cheers, gigi
Thanksgiving/Holidy 2016
It's the time of year for Thanksgiving. And I sure am thankful. I give thanks to the health, the support, the love, and the encouragement of my friends and family. I celebrate you.
This year, I present my Eleventh Annual Ornament, "The Light." (see picture below) I was inspired by a trip to the Pemaquid Point Lighthouse in Bristol, Maine. First, I tried a painting of the Light, and then it came to me to try it in glass. This is the first time I've done a structure in glass, and the 11th time that what I thought the ornament was going to be, and what it ended up being were totally different!
I've got three great shows for the 2016 holiday season. Find detailed show info on the events page (check links for discount coupons, directions, all the scoop).
Crafts at the Capitol is up first. This is the show I organize each year, and I like to think of it as beautiful gathering of artist friends. There is something here for everyone on your list. This year, downtown renovations are complete, and you can be one of the first to stroll Concord's new Main street. (pssst free admission!)
Then, I'm traveling to Bean Town to be a part of Craft Boston Holiday. This is my first time exhibiting at this show. It's exciting. The work on exhibit here will be outstanding. I'll be with friends from all over, especially some of my favorites from Maine and New Hampshire. Please come cheer us on!
And for my final show of the year, I head to Morristown, New Jersey for the Artrider holiday show. This was fun show to be at last year, a visit with friends, a lovely town, a beautiful show. Come on over!
And that's a wrap. What a wonderful year.
Join in me giving thanks. please enjoy the season, and we sure hope to see you soon!
cheers, gigi
Fall 2016
Welcome to the sweetest days of the year.
​
I just love the late days of summer, with just the hint of fall. These are some of the best days of the year.
I'm working my way back into the studio. New vases are coming out of the kiln. I'm restocking my classic ornament, "Two together As One", we love the cardnials! And I'm working on the design of my annual ornament...stay tunned!
I'm headed to Tarrytown, NY for Crafts at Lyndhurst September 16, 17 & 18. Explore this beautiful estate on the banks of the Hudson river; shop 'til you drop exploring the crafts and artists brought together in one place by Artrider Crafts.
Then, I'm at the top of the hill at the Fruitlands Museum in Harvard, MA for September 24 & 25th. What a view, what a selection!
On October 1 & 2nd I'm excited to participate in a new show at Tower hill Botanical Gardens in boylston, MA. This​ fine American Craft show will the first fall celebration at the gardens this season. It's got to be good!
And ta-da, next, comes the crown jewel of fall celebrations, Paradise City Festival of Arts at Northampton, MA, Columbus Day weekend October 8, 9 & 10. We'll be in our favorite spot in the Exhibition building. Come see us and enjoy a day with beauty, fine food from area restaurants, smooth jazz, and the finest of crafts.
Check out the links on my events page for discount admission coupons, directions, all the scoop!
Mostly, please enjoy the season, and we sure hope to see you soon!
cheers, gigi
​
Summer 2016
Welcome Summa!
It's summer here in New England, and what a great season its been so far. I've been able to enjoy a terrific three generation family gathering, a way-too- close encounter with a sea gull on a picturesque visit to the big rock called Sequin Island, and of course had the annual lobsta feast. My travels so far this year have given me sketch books full of ideas, and I'm having a ton of fun working on a real variety of projects.
I've spent a fair amount of time this year looking at maps. Trail maps, road maps, I keep seeing paths, journeys, the trips of our lives. So this summer I introduce my "Happy Trails" series. May we all have some sparkle as we "head on down the road!"
August bring us to the granddaddy of fine craft shows, The League of NH Craftsmen Annual Craftsmen's fair in Sunapee, NH. I just can't say enough wonderful things about this show. It's an experience; I oh so encourage you to come for a visit. In addition to the 200 or so booths, there are demonstrations, opportunities to try your own hand at creation, chairlift rides to the top of the mountain, swims at the base of the mountain, and, back by popular demand, local music to enjoy during your visit. Please come! We'll be in Tent 2 (same spot as last year!).
www.nhcrafts.org
Then, as you know about me, after the mountains, it's time to go to the sea! One August 27th I'll be a part of the Maine Crafts Association one day show in downtown Portland, Maine. I'm excited to be a part of this special show and know that a day on the coast of
Maine can't be beat.
mainecrafts.org/programs/portland-fine-craft-show/
I hope you can join us this summer; we'll be happy to see you! and did I mention all the new stories we have this year??
​
cheers, gigi
Spring 2016
Happy Spring!
Happy Spring, spring, spring! Thanks to wonderful family and friends I've had lots of inspration lately from New England to Alaska, to Florida and back. And maybe...just one more place before summer...Let's share some stories!
First in the line-up is Spring Crafts at Lyndhurst, in Tarrytown, NY. Built on the banks of the Hudson River, Lyndhurst Castle is a destination in its own right...Crafts and a castle...what a great combination! And here's a link to a discount admision coupon (one coupon per visitor) .
https://artrider.wufoo.com/forms/spring-crafts-at-lyndhurst-2016-admission-coupon/
Then Memorial Day weekend I will be set-up in my favorite booth space at Paradise City Northampton. Booth #123. This is just the best show ever to join fine craft, smooth jazz, and yummy food from around the world. In addition to having my work in my own booth, I will also have two pieces on display in the special exhibition, "American Beauty." This is a spcial exhibit dedicated to the beauty of our world, and I'm excitied to be a part of it. Here's a link for more show information, and a discount admision coupon.
http://festivals.paradisecityarts.com/shows/northampton-may-show
Come see us; we'll be happy to see you! Plus you'll hear my latest stories...let's just say birds and mountains and adventures to new and favorite places!
​
cheers, gigi
Fall 2015
Happy Fall!
I love these cooler days. they make me feel great, and so inspired to create.
Ta da, here it is, my TENTH annual ornament,
"Along the Wind River." This year's ornament came to me in a moment while I was drawing at my work bench. The following week, I was walking in a forest of big trees along the Wind River in Washington State and knew the design was set for my annual ornament. There is something special about being in such a majestic setting, and I hope my ornament shares that. Like previous years', my annual ornament is a limited edition and each one is numbered, signed, and dated.
I am participating in some terrific fall shows. Plan your visit and come celebrate fine craft and the beauty of this season.
Columbus Day weekend I'll be at Paradise!
Paradise City Arts Festival that is! In Northampton, Mass. this show is amazing, the looks, the sounds, the eats! You gotta check it out!
paradisecityarts.com/october/homeoct.html
Then, for the first time, I'll be exhibiting at Roseland cottage in CT. Come explore this new show with me.
historicnewengland.org/events-programs/fine-arts-and-crafts-festivals/roseland-festival
And then, with a little help from my friends, I'll be setting up in Washington, DC...that's right..I'm headed to the DC Armory. This city is a powerful place to visit. check it out!
americanfinecraftshowwashington.com/
New ornament, new work, new stories, new shows. Plan a visit; I'll be so happy to see you!
Late Summer 2015
It's time to start thinking about the fall.
I'm dreaming of crisp days, pumpkin moons, and the joys of New England's fall foliage.
And, time working with glass, creating new work, getting ready for the season.
I'm almost ready to unveil my 10th annual ornament. And I can't wait to show it to you!
Plan a visit to one of these fantastic fall shows. Each one celebrates fine craft and makes a mighty fine way to spend a fall day.
In September I 'll be in Tarrytown New York for
Fall Crafts at Lyndhurst
artrider.com/#!fall-crafts-at-lyndhurst-2015/cwjq
​
Summer 2015
Welcome Summer!
Long days, moonlit kayak paddles, campfires, fresh veggies from the garden, time spent with family and friends...ahhh the joys of the season.
And, time working with glass, creating new work, getting ready for the great shows of summer. I'm having lots of fun playing with varying glass and silver combinations in my "silver pools" series, and experimenting with some new stones combined with glass (not to mention some fabulous new pearls!), New this year, my latest work, "l'art du jardin." Yes, I'm making "art on a stick!" and enjoying every moment of this bright, new colorful work. Inside, outside, totem, whimsy, fun, playful...that's my ''art du jardin!"
From the mountains, to the sea....
Spring 2015
Happy Spring, happy, happy, happy!!!
You gotta love my mother. She knows her daughter. For my birthday this year she gave me a couple of art classes. One was a watercolor class, a chance for me to catch up with my old friend (ahh, painting, one of my first loves), and the other was a brand new experiment, pottery (I have a whole new appreciation for everything clay). Both were wonderful experiences, and I hope you might see some of the influences in my work. One thing I know for sure, I had a ton of fun.
While visiting my Mum I got to make lots of new earrings, some new silver pools necklaces, and had an interesting visitor to my temporary studio (I thought he was going to walk right up to my bench!).
I'm back in my fusing studio now, working with some wonderful great new glass, playing with new designs and.....oh there's more...
December 2014
Happy Season of Love
From the snowy and icy north, to the palms and beaches of the south, I wish you a happy December.
On my "shop" page I have just added a small on-line store. Here you'll find a selection of my work, my annual ornament, "Into the woods on a Snowy Evening", my classic ornament, "Two Together as One, and a few other goodies. And, if you don't see what you are looking for, please use the form to contact me and let's just see what we can find!
I have stocked many of the League of NH Craftsmen Galleries for the season. At these beautiful stores you'll find an amazing selection of hand crafted gifts.
Enjoy the season!
November 2014
I began my last posting saying, "Can you believe this remarkable weather?" As I look outside the studio today I have to admit, I'm saying the same thing. There's a thin blanket of snow in the yard, and I guess it does go along with the beginning of my Holiday show season.
It's time for the two local shows that I help organize, Crafts at the Capitol in Concord, NH, and Crafts at the Town House in Peterborough. We came up with the saying for the shows, "Shop Local. Shop Quality. Shop for Everyone on your List," and these words really sum up what these two shows are all about. Plus they celebrate the great, vibrant and fun to visit downtowns of Concord and Peterborough. So come for a visit, we look forward to seeing you!
Then we head to college; the Evergreen Fair held at UNH in Durham, NH. This is a fun event, full of the life. There's nothing quite like spending some time with energetic young people to make you feel a litlle bit more alive. It's a joyous event, and I look forward to it every year. If you haven't got your gift shopping done, you will be able to finish it here!
At all the shows, I'll have my 9th annual ornament, "Into the Woods on a Snowy Evening. It's a limited edition, and each ornament is signed, numbered and dated, and is the latest edition to my growing collection of annual ornaments. The perfect gift, it comes comes gift-boxed, ready to hang and be enjoyed.
I will also have what I am now calling my "classic" ornament, "Two Together As OneThis is one everyone should have in their collection.
New work comes out of the kiln weekly, and I will have lots of selection for you to enjoy. Ask me about doodling on glass, or what happens when you experiment with sterling silver and copper encased in glass. Or, did you see what happens when you mix glass with water? Oh, oh,and how about "Rock On" my latest combination of glass with natural materials.
Can't wait to show it off, come for a visit; We look forward to seeing you.
gigi
gigi