My work is a selection of landscapes and vases, art-to-wear jewelry,
and Slice-of-Life jewelry

Here's a sampling of some of my work.

Landscapes

Lines. Tree lines, ridge lines, lines found in nature. These lines inspire me, and shape my views.

Art to Wear - Jewelry
Swing. The moment something catches your attention. I like my jewelry to have some swing.

I am captivated by the idea of combining glass with natural materials. Pearls, rock, and who-knows-what I find and collect.

Slice-Of-Life, Jewelry for a Cause


This most important work in pendants and earrings celebrates all that life has to offer, and encourages us to live, love, and give to the extreme. Several years ago, I cut a piece of glass in the shape of a watermelon slice. When I included this slice into a larger piece, I felt the watermelon slice celebrated life, and symbolized good, fun, light, hope, and happiness.

About a week later, a dear friend's family began the fight against colon cancer. They came to me and asked if I could make a piece that could be worn to unite family and friends, a symbol of love and hope. My design, the Slice-Of-Life seemed perfect.

I continue to make the Slice-Of-Life pieces, and they have become an important part of my work. I decided that out of respect, love, and hope for all who fight disease that a portion of the proceeds from these pieces would be donated to a charity for hope, and as my friend's family wishes, to Hospice.

A portion of the proceeds from the Slice-Of-Life sales will go to local Hospice programs, Women's Breast Care Programs, or other local charities devoted to helping families fighting disease. To date, donations have been made to Hospice programs in New England.



Gigi's Annual Ornaments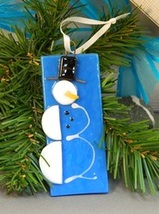 2012 "Frosty"
---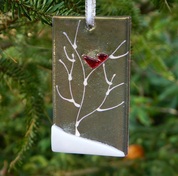 2013 "Winter Wonderland"

---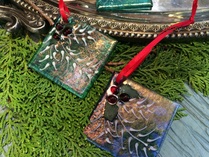 2014 "Into the Woods on A Snowy Evening"

---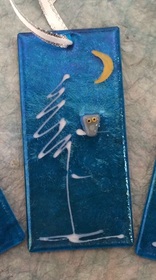 2015 "Along the Wind River"
---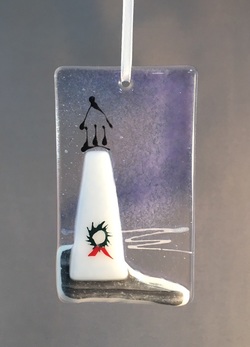 Gigi's 11th Annual Ornament 2016, "The Light"

---